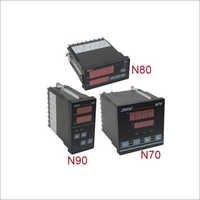 Pressure Indicator
Product Description
Pressure Indicator

Pressure Indicator which we manufacture, export and supply is precisely designed by our highly skilled professionals. Superior quality material is used in its manufacturing for accurate display. Both maximum and minimum readings are displayed at the same time. Our Pressure Indicator is widely appreciated for its quality, durability, accuracy, efficiency and long service life. We offer it to our clients at highly competitive prices in the market and also ensure its delivery on time.
Features

High Accuracy and quality
Durable and highly efficient
Small in size, light in weight and save power
Highly competitive prices
Made using superior quality of materials and latest technology
Panel mount and dual 4-digit indicator
Further Details
N70/N80/N90 pressure indicator is a 1/4 DIN or 1/8 DIN, panel-mount and dual 4-digit indicator, which takes the advantage of latest state of art technology and comes small in size, light in weight and in low power. The pressure indicator has been especially designed for the use with mv/Volt output transducers from different renowned manufacturers such as Gefran, ONEhalf20, Dynisco and so on. This series of indicator can match with ZHYQ's melt pressure transducer also.
Specifications
Display
Dual 4-digit Green and Red LEDs
Resolution
0.2% FSO ± 1
LEDs
Out, Alarm-1, Alarm-2, CaLibration
Input Sensibility
2.5mv/V or 3.3 mv/V (automatic selection)
Sampling Speed
20 per second
Excitation Voltage
+9 VDC (output to transducer)
All Output Relays
Relay 220V 1A
Retransmission
4~20 mA standard current loop
Communication
RS-485 MODBUS( PY500 Only)
Alarm Range
0001 – 9999 PSI or Bar (configurable)
Temperature
0 - 55°C
Humidity
<= 80% RH
Calibration
80% FSO (Full Scale Output)
Power Supply
110/220VAC or +24VDC (designated while purchasing)
Size
N70: 96 mm x 96 mm x 100 mm (W x H x D)
N80: 96 mm×48 mm×100 mm (W x H x D)
N90: 48 mm×96 mm×100 mm (W x H x D)
Panel Cutout
N70: 92 mm x 92 mm
N80: 92 mm×44 mm
N90: 44 mm×92 mm
Weight
400 grams (Max.)